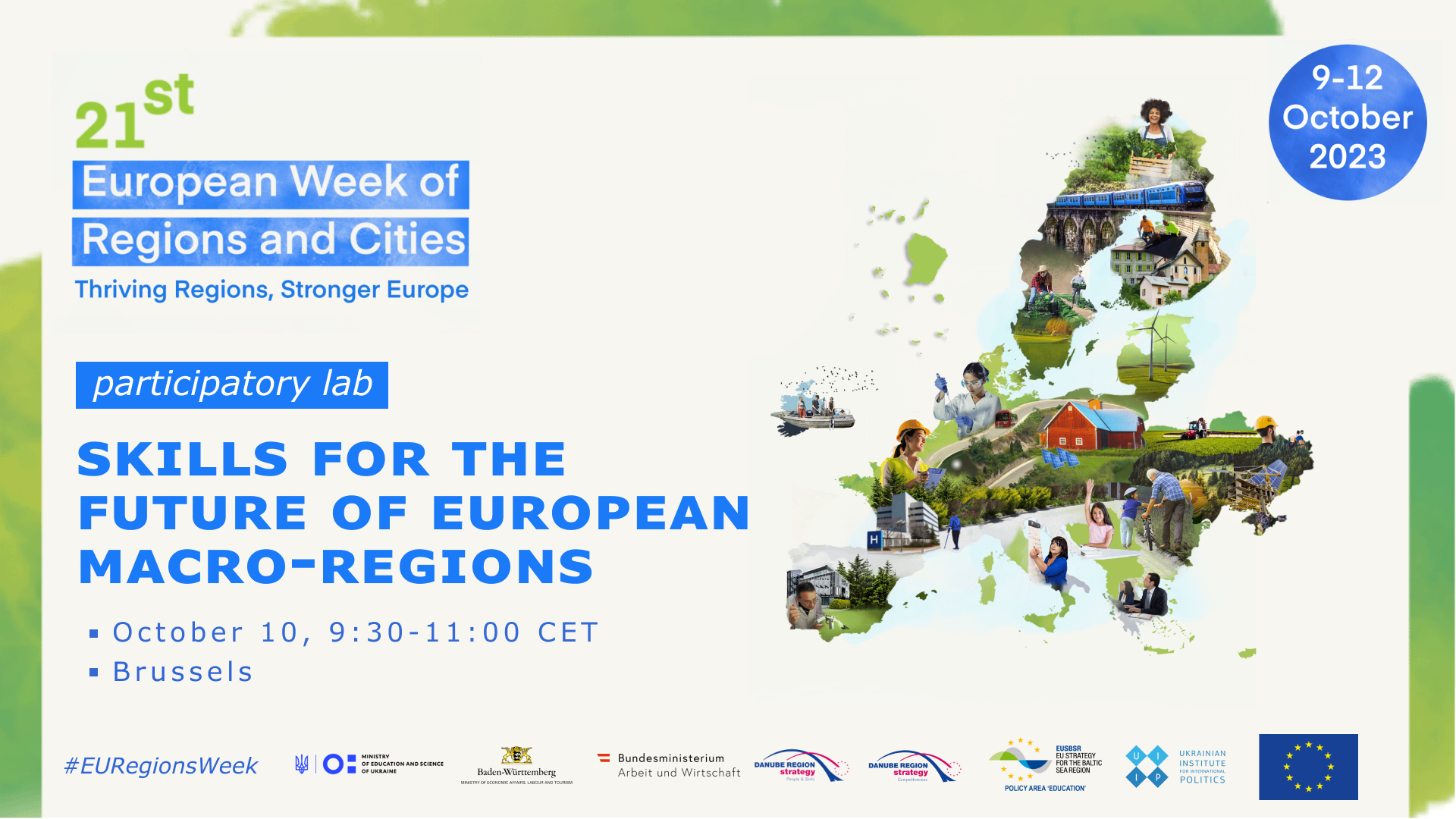 Workshop 'Skills for the Future of European Macro-Regions'
Within the framework of the European Week of Regions and Cities (EWRC) 2023, the participatory lab Skills for the future of European Macro-Regions is organised by the Ukrainian Institute for International Politics together with the Ministry of Education and Science of Ukraine, Ministry of Economic Affairs, Labor and Tourism Baden-Württemberg (Germany) and Norden Association Sweden.
This participatory lab aims to discuss creative solutions based on previously unexplored approaches. Two EU macroregional strategies for the Danube and Baltic Sea regions jointly consider the role of upskilling and innovative approaches in designing solutions for the recovery and future of the European macroregions. The session also tackles ESF+ financial capacities in dealing with these issues.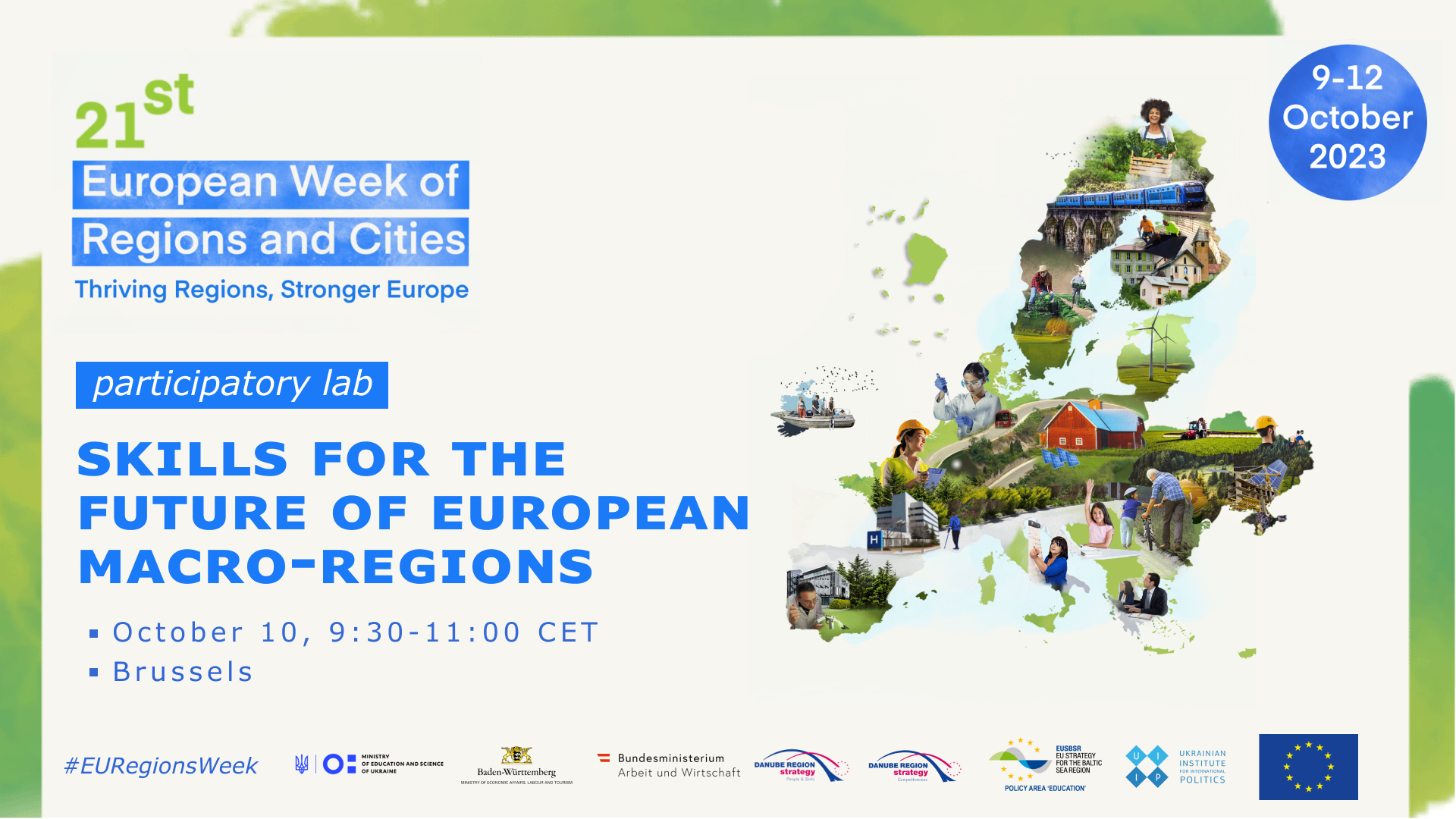 The EWRC is the biggest annual Brussels-based event dedicated to cohesion policy. It is a four-day event taking place from 9 to 12 October 2023. Registration for the European Week of Regions and Cities and the workshop is open.
What to expect?
Participatory lab format with focus on exchanging knowledge, co-creating solutions to local and regional challenges
Fruitful discussion with experts experienced in professional education, innovative approaches and digitalization, representing governments, EU and non-governmental institutions
Case-oriented approach tailored to match the needs of the target audience – SMEs, educational sphere, employers and employees
Knowledge and best practices exchange
Experience of organizations and institutions of different priority areas from Baltic Sea and Danube regions
Overview of the ESF+ financial capacities
Speakers
Iryna Shumik, Ministry of Education and Science of Ukraine
Roland Hanak (Priority Area Coordinator 9), Federal Ministry of Labour and Economy of Austria
Merle Andraschko, Coordinator of the PA Education of the EUSBR
Alexander Zier, Ministry of Economic Affairs, Labour and Tourism of Baden-Württemberg
The workshop is moderated by Nadija Afanasieva, PAC9 member, Director of Ukrainian Institute for International Politics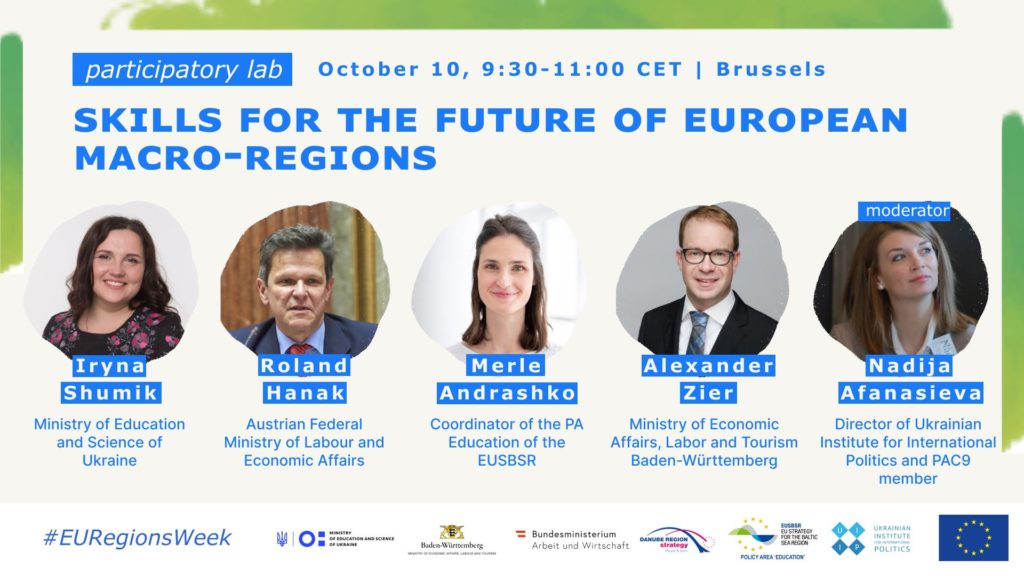 More information
European Week of Regions and Cities